"The Politics of Feeling and the Work of Belonging in US Immigrant Fiction 1990 – 2015" (book manuscript)
The Politics of Feeling and the Work of Belonging in US Immigrant Fiction 1990 – 2015 presents an interdisciplinary study of contemporary US diasporic fiction. Comparing the popular fiction of Jhumpa Lahiri, Julia Alvarez, Junot Díaz, Lan Cao, Achy Obejas, Cristina Garcia, Kiran Desai, and Nora Okja Keller, I demonstrate how contemporary authors use emotion as an expressive technique, one that exposes how the intersections of domestic racialization, global capitalism, and US empire and imperialism emerge in everyday emotional negotiations.
The project illustrates that belonging is a process, not a final subject formation, and contends that this daily emotional work is visible through acts of narrativization. In this way, I show that emotion is not only formative to characterization and the rhetoricity of fiction, but is crucial to the construction of the racial and gender politics of the stories themselves.
Ultimately, then, The Politics of Feeling and the Work of Belonging asks readers to consider what we can learn about contemporary racial politics by examining the narrative work emotion performs in diasporic fiction.
***
"Persian-American Identity in Bravo TV's Shahs of Sunset" 
"You can't go to a Muslim country and talk sh*t about people wearing a veil," retorts Asa, one of the cast members of Bravo TV's Shahs of Sunset, when her friend, and fellow cast mate, Reza, cringes at the veiled women during their trip to Turkey.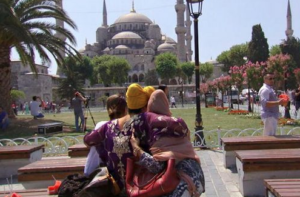 During the two-part episode when the cast ditches Beverly Hills for the cultural riches of Turkey, offhand comments abound, making an already contested show about Persian-Americans rich with analytic potential. For between belly shots and yacht charters, the cast of Shahs of Sunset confronts difficult memories and differentiated histories of the Iranian diaspora that put them at odds with each other.
This paper focuses on the bodily and emotional reactions of the cast, paying particular attention to the ways in which editors of the show narrate this footage through the use of post-
filming interviews. In breaking down the formal particularities seen in the production of these episodes, this project illuminates a complex relationship between narrative and affect that is integral to the success of the reality TV formula. Moreover, by examining the divergent narratives of Americanness, Persianness, migration, and belonging that arise during carefully edited lunch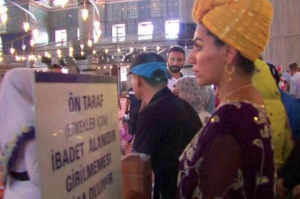 conversations, silent contemplations at vistas overlooking the Iranian-Turkish border, and visits to the Blue Mosque, we can better understand how differences in ethnicity, religion, gender, and sexuality shape each characters' experience abroad. For interestingly, it is when the cast is outside of the US, that show, both in content and form, most directly engages with the politics of post 9/11 US-Iranian identity.
***
"Forms of Dissent: Define American and the Politics of Humanization" 
On June 22, 2011, Jose Antonio Vargas, a Pulitzer Prize winning journalist and documentary filmmaker came out about his documentation status in the New York Times Magazine in an essay entitled "My Life as an Undocumented Immigrant." In the essay, Vargas situates his public narrative within the larger movement of undocumented migrants in the US, joining the hundreds of undocumented immigrants who have shared their stories to fight for a chance to live and work in the United States throughout  the late 1990s and early 2000s. Since the publication of his Dreamer narrative , Vargas has gone on to grace the cover of TIME magazine, his face centered amongst a racially diverse collection of undocumented men and women, for his article "Not Legal, Not Leaving," produce and star in two documentaries, Documented and White People, and appear on mainstream news media and participate in direct actions at political rallies.
Vargas' most recent, and perhaps most robust, venture since, however, has been Define American, a "non-profit media and culture organization that uses the power of story to transcend politics and shift the conversation about immigrants, identity, and citizenship in a changing America." In addition to providing a place for people to "share [their] story," Define American has also launched a #wordsmatter campaign to monitor the use of derogatory and dehumanizing language around undocumenteness, a film festival, media scorecards to rate major television networks' portrayal of immigrants, college chapters, and curricula for documentary screenings. In this way, the organization's goal to "[h]umanize  the conversation around immigration and citizenship in a changing America" by turning to stories and language has illustrated the intersections of undocumentedness, pedagogy, and forms of dissent.
This paper examines Define American's interest in the power of stories to transform the current conversation around national belonging and citizenship. To do so, I situate Define American within the larger history of undocumented youth storytelling, illuminating the role affective rhetorics and the emotional work of narrative production have played in shaping the dissenting position of the mainstream undocumented youth movement. I then theorize the political potentiality of affective work as it takes form in Define American's focus on conversation, language, and storytelling.  By unpacking the political work of Define American, this paper underscores the complexity of dissent as an undergirding mission of educational praxis.