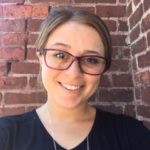 Lauren Silber holds a PhD in English and American Studies from the University of Massachusetts Amherst and a BA in English from the University of Connecticut. Her scholarship emerges at the intersections of migration studies, comparative race and ethnic studies, gender studies, and affect studies.  
As a teacher, Lauren values innovative assignment and curricular design so as to engage her students in a way that honors what they bring to class, while challenging them to consider perspectives, contexts, histories, and narratives they may not have encountered before. This student-centered approach has been developed through her work as tutor and mentor at several writing centers where Lauren has watched student after student struggle to master, adhere to, or simply want to produce the kind of knowledge most valued by the academy.
Lauren is currently the Assistant Director of Academic Writing and Assistant Professor of the Practice in English at Wesleyan University.